Policies and Procedures
Assessment and Reporting of Student Progress
Parent interviews are held twice a year. Written reports in each subject area are provided for each child at the end of Terms 2 and 4. Teachers set up learning journeys twice a year where students lead their parents though the variety of educational experiences they have undertaken. Students undertake system testing in Kindergarten, Year 3 and Year 5. Additional standardised and teacher designed tests assist teachers in evaluating and reporting student progress.
Student Management
The school motto, "Teamwork and Tolerance", reflects the aims of the school to encourage a spirit of cooperation and community while fostering respect and understanding for all. Torrens Primary School student management procedures are based upon these principles.
Teachers regularly monitor their programs to ensure positive behaviour outcomes for their students. When normal classroom strategies such as redirection through questioning have not resulted in appropriate behaviour choices, additional steps such as time out in class, time out in another classroom and time out with the executive staff, are implemented.
Torrens Primary School Student Management Policy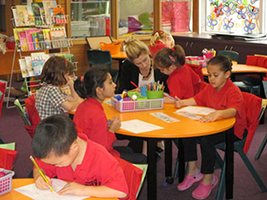 Sun Protection
Children are encouraged to wear hats when spending time outdoors. Wherever possible, the school aims to minimise outdoor activities between 11.00am to 3.00pm. Parents are encouraged to send SPF 30+ sunscreen to school for their child to apply and to send each child with a broad brimmed or bucket hat. The school has a "No hat, no play" policy during Terms 1, 3 and 4 in line with Directorate policy guidelines.
Homework and Gifted & Talented
Link to Torrens Primary School Home Learning Policy
Link to Torrens Primary School Gifted & Talented Procedure
Excursions
Excursions frequently form part of the educational program at Torrens. Most excursions are an optional extra available for students. They are planned to enrich or consolidate some area of the classroom learning program.
Phones, iPods and attractive toys
Students are not permitted to bring these items to school. It is suggested that all expensive and attractive personal items remain safely at home.
Voluntary Contributions
Voluntary Contributions are an additional financial resource benefitting all students. At Torrens Primary School the School Board approves the contribution amount for the primary school and preschools. The payment of this financial contribution is voluntary. The Education Act 2004 states that your child will not be refused benefits or services if you do not choose to contribute. Individual records of contributions are confidential.
Absences
If a student is absent from school, a note must be sent to the class teacher, or a telephone call made to the school giving the reason for the absence, or you can email the school at admin@torrensps.act.edu.au. Alternatively, you can go to the Front Office and complete a pink absent note.
If your child arrives late (after 9.30am), you will need to fill in a 'Record of late arrival' (blue note) at the Front Office and take it to the student's teacher.
All parents wishing to pick up students early from school or during school hours (eg. for an appointment) are required to sign their child out at the Front Office and collect a 'Permission to leave school grounds' note (green note) to give to the teachers. You may also be required to provide photo id if the Front Office staff are unfamiliar with you as a parent or carer. Please note that if you are picking a student up from school, you will need be on the emergency contact list otherwise Front Office staff will need to contact the student's parent for permission.