School Uniform
School Dress Code
The school colours for Torrens Primary School are red and black.
The uniform consists of:
Red polo top
Red skivvy
Red sweatshirt
Red hooded sweatshirt
Red zipper jacket
Black cotton pants
Black tracksuit pants
Black box pleat skirt or skort
Black shorts
Torrens summer dress
Torrens winter pinafore
Black or red broad brimmed or bucket hat
White/black socks
Black/white shoes/runners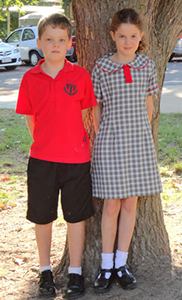 Please note: Commercial logos, stripes, tabs and embellishments are not appropriate school wear. Black netball skirts are not appropriate everyday school wear, and should only be worn on specified sports days eg Athletics Carnival.
Students are required to wear school uniform on excursions for safety and identification purposes. Please ensure all removable clothing is clearly labeled with the owner's name.
All students must wear a clack or red broad-brimmed or bucket hat. The school applies a 'no hat, no play' policy in Terms 1 and 4. Torrens Primary School's Sunsmart Policy 2017
New uniforms with logos are available from Savvy School Wear at Tuggeranong Homeworld, 37 Soward Way, Greenway. Plain coloured uniform pieces are available from Big W, Lowes, KMart and other department stores. Information regarding the sale of pre-loved uniforms can be obtained from the P&C page of the school newsletter.
Torrens Primary School's Dress Standard and Colour Code Policy